Upcoming Events – Spring
---

Catalyst Virtual Spring Symposium
March 25th and 26th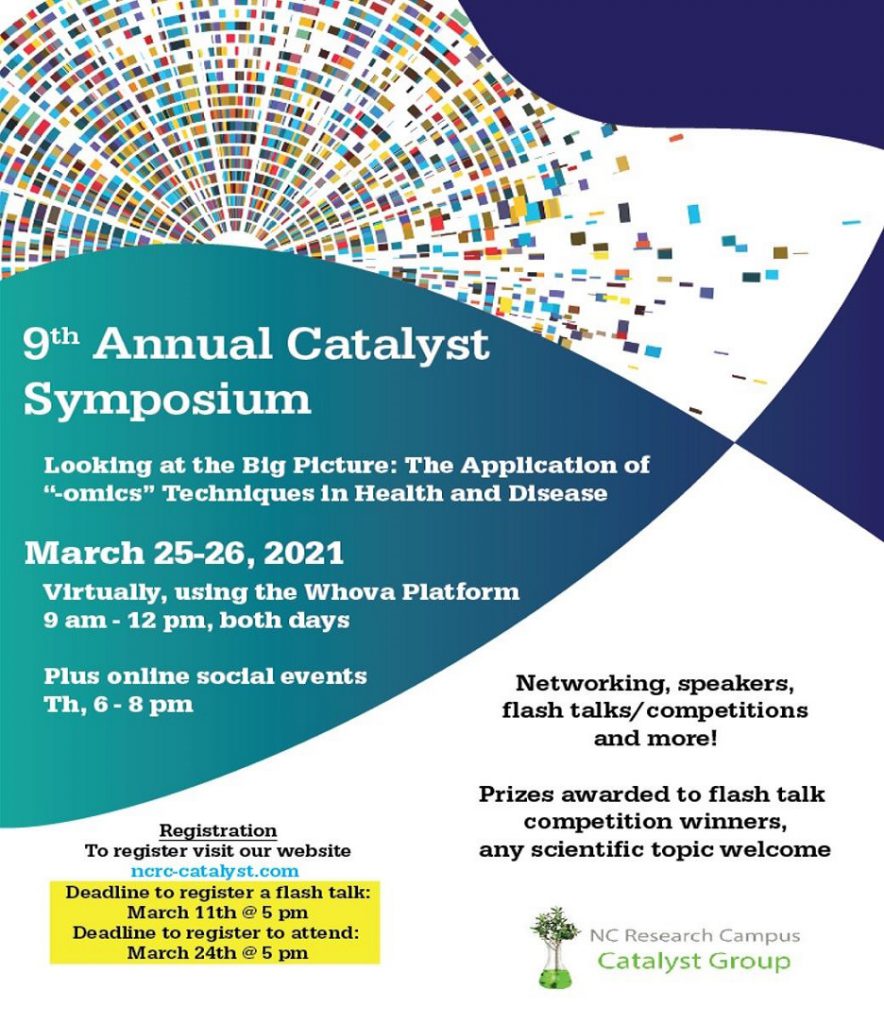 The NCRC Catalyst group invites you to the virtual 9th Annual Catalyst Spring Symposium- "Looking at the big picture: the application of "-omics" techniques in health and disease"! The event features two scientific sessions with 6 speakers, flash talks, networking, and talks from researchers at the North Carolina Research Campus and across North Carolina. Check out the event on Whova and connect to the mobile app using the box below!
When: Thursday March 25th & Friday March 26th, 9am-12pm
Where: On your computer! We will be providing a user guide for the Whova virtual platform.
What to do:
Flash Talk Information: Flash talks will be replacing poster presentations at this year's spring symposium. The structure of the flash talks will be a 5 minute pre-recorded presentation using a single presentation slide without animations. For flash talks entered into the competition, there will be live question and answer sessions, with 3 minutes allowed for questions for each talk. Prizes will be awarded for competition winners. For flash talks not entered into the competition there will be a chat feature for symposium attendees to ask presenters questions and give feedback. We encourage everyone to submit a flash talk, as space is unlimited. We welcome any scientific subject matter, and material presented elsewhere. We ask that the flash talk not be the same as any poster presentation given at a previous catalyst spring symposium.
---
Brief look into the Agenda and the Background of our speakers

---
Speaker Biographies
View detailed biographies with the following link! Download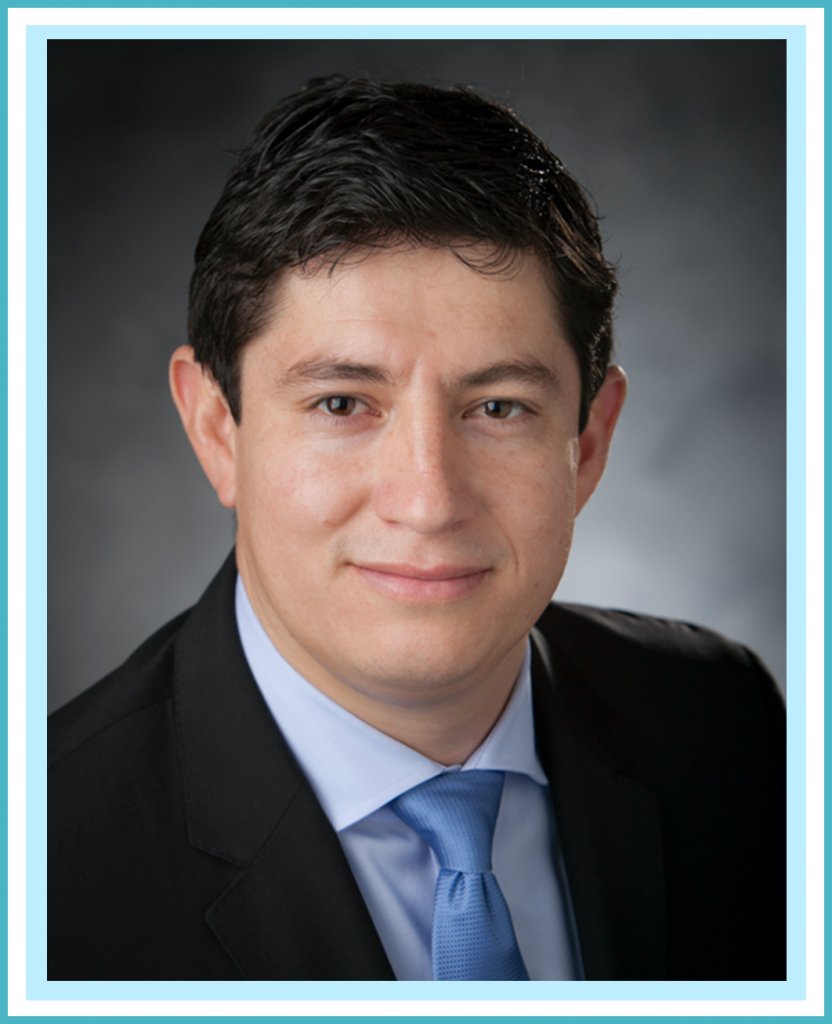 Dr. Diego Bohorquez, Duke University
Dr. Bohórquez is a neuroscientist recognized for the discovery of a neural circuit that serves as the basis of gut brain sensory transduction. At Duke University, he leads a research team built with the vision to treat the brain from the gut. His overall mission is to dissect gut-brain circuits underlying behaviors to improve health. Beyond the laboratory, he has founded the Gastronauts – a venue to disseminate knowledge on gut brain matters.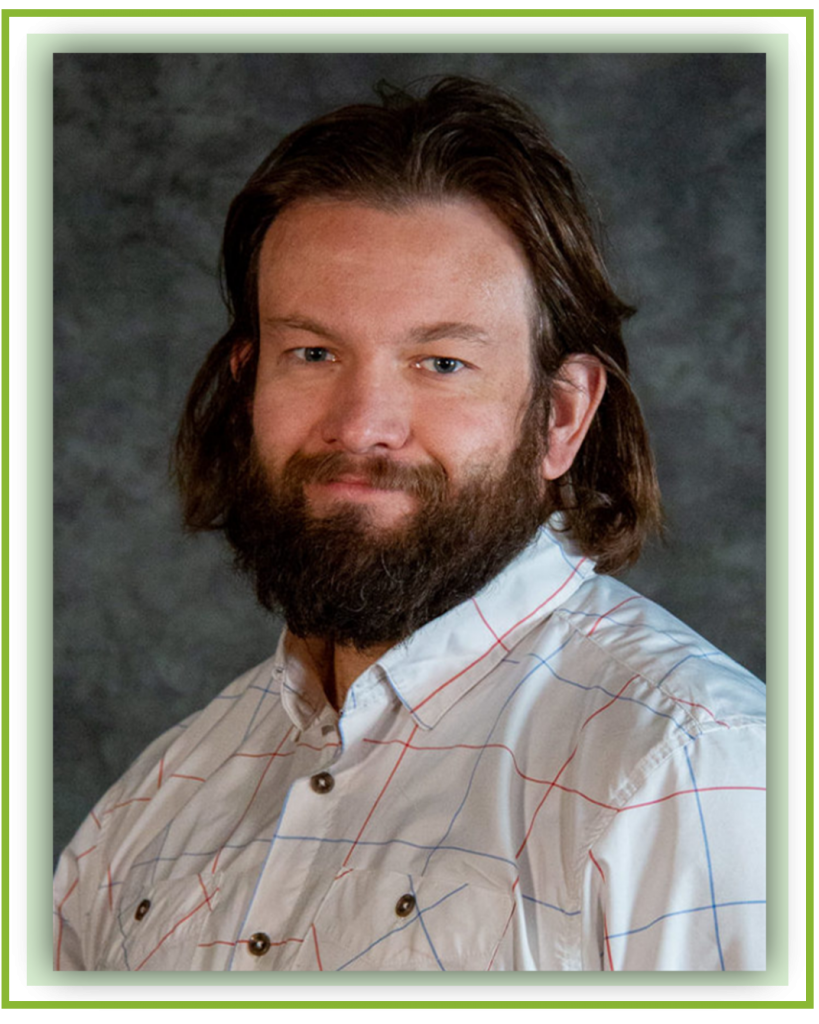 Dr. Andrew Neilson, North Carolina State University – PHHI
Dr. Neilson received his BS in Food Science from Brigham Young University in 2005 and PhD in Food Science from Purdue in 2009. Following his PhD, completed a postdoc studying diet and colon inflammation and cancer at the University of Michigan Medical School from 2009-2011. From 2011-2018, he was an Assistant and then Associate Professor in the Department of Food Science and Technology at Virginia Tech in Blacksburg, VA. Dr. Neilson joined PHHI in 2019.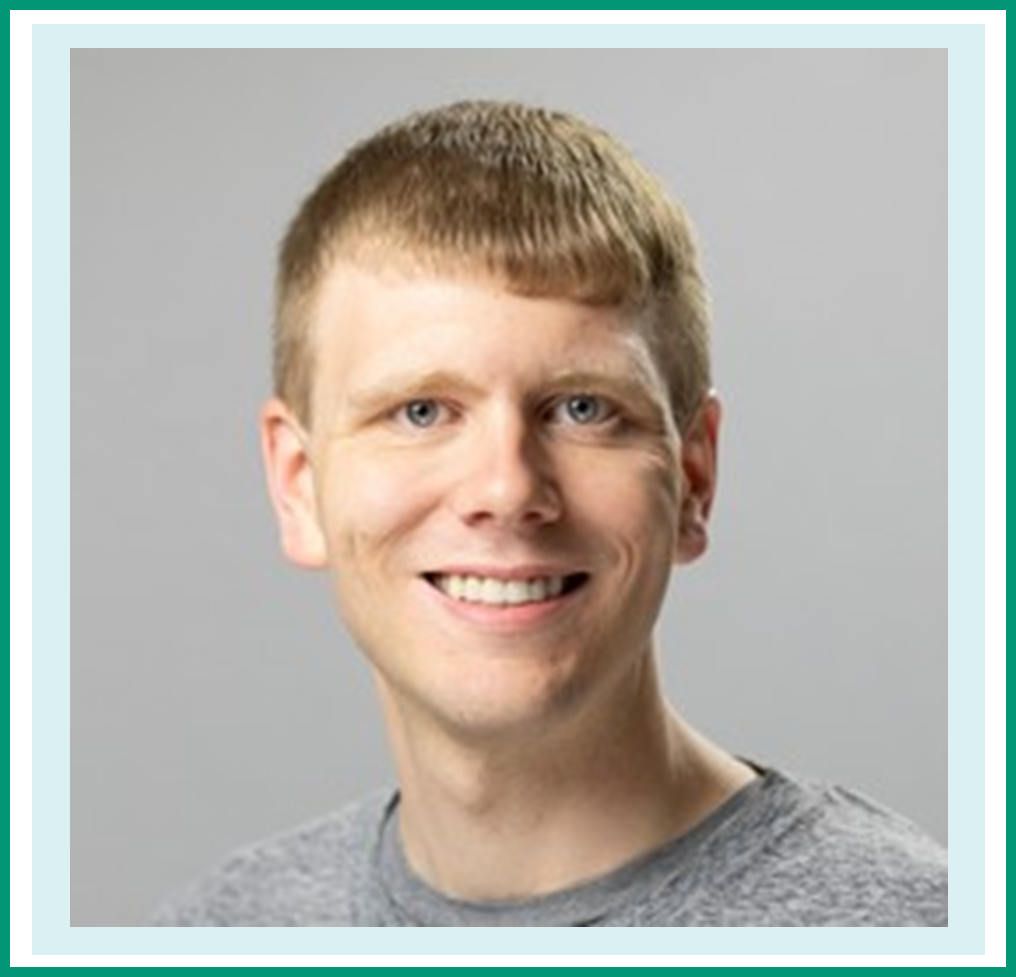 Dr. Reed Stubbendieck, University of Wisconsin-Madison
Dr. Reed Stubbendieck is a postdoctoral researcher in Dr. Cameron Currie's laboratory in the Department of Bacteriology at the University of Wisconsin-Madison. His primary research interests involve understanding how bacteria use specialized metabolites in competitive interspecies interactions.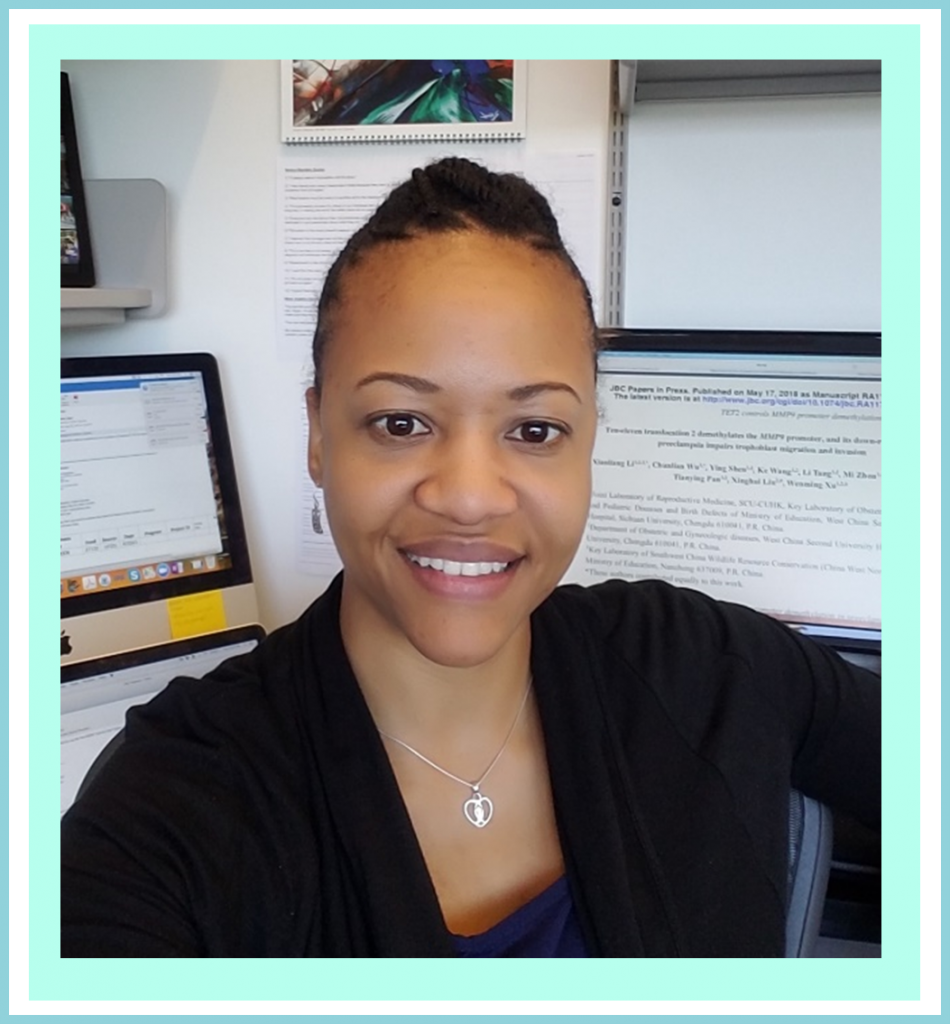 Dr. Folami Ideraabdullah, UNC Chapel Hill
Dr. Ideraabdullah is an Assistant Professor of Genetics in the School of Medicine and holds a joint appointment in the Department of Nutrition in the Gillings School of Global Public Health. She earned her PhD in comparative mouse genetics at UNC Chapel Hill and completed postdoctoral training in epigenetic regulation of genomic imprinting at the University of Pennsylvania.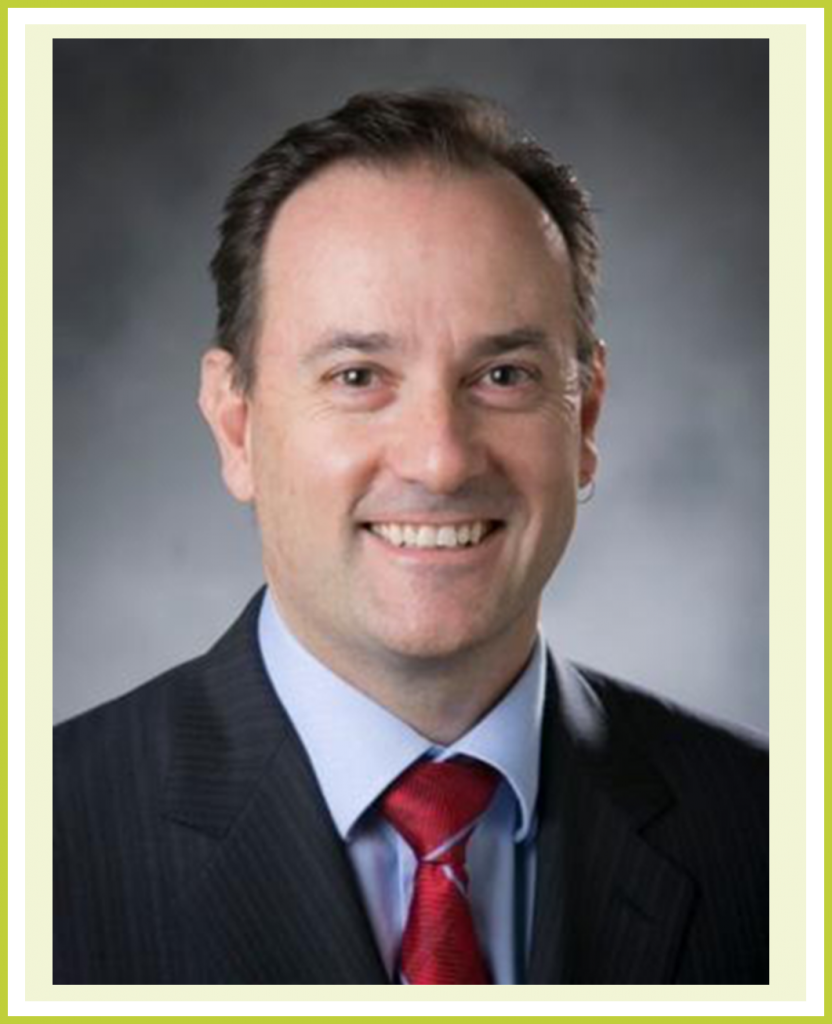 Dr. Simon Gregory, Duke University
Dr. Gregory is a tenured Professor and Vice Chair of Research in the Department of Neurology at Duke University and Director of the Molecular Genomics Core at the Duke Molecular Physiology Institute (DMPI). As a neurogenomicist, Dr. Gregory applies genetic, genomic, and epigenetic approaches to elucidate the mechanisms underlying multi-factorial diseases.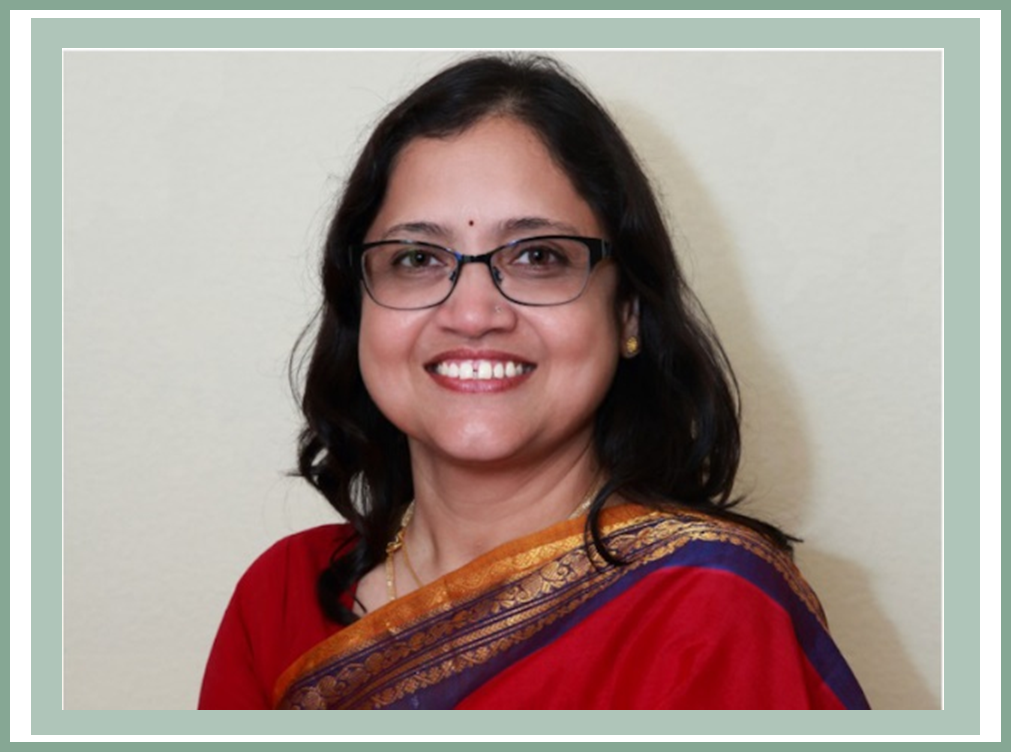 Dr. Saroja Voruganti, UNC Chapel Hill – NRI
Dr. Saroja Voruganti, Associate Professor of Nutrition, is working on building a nationally and internationally recognized research program in nutritional genomics at UNC.
---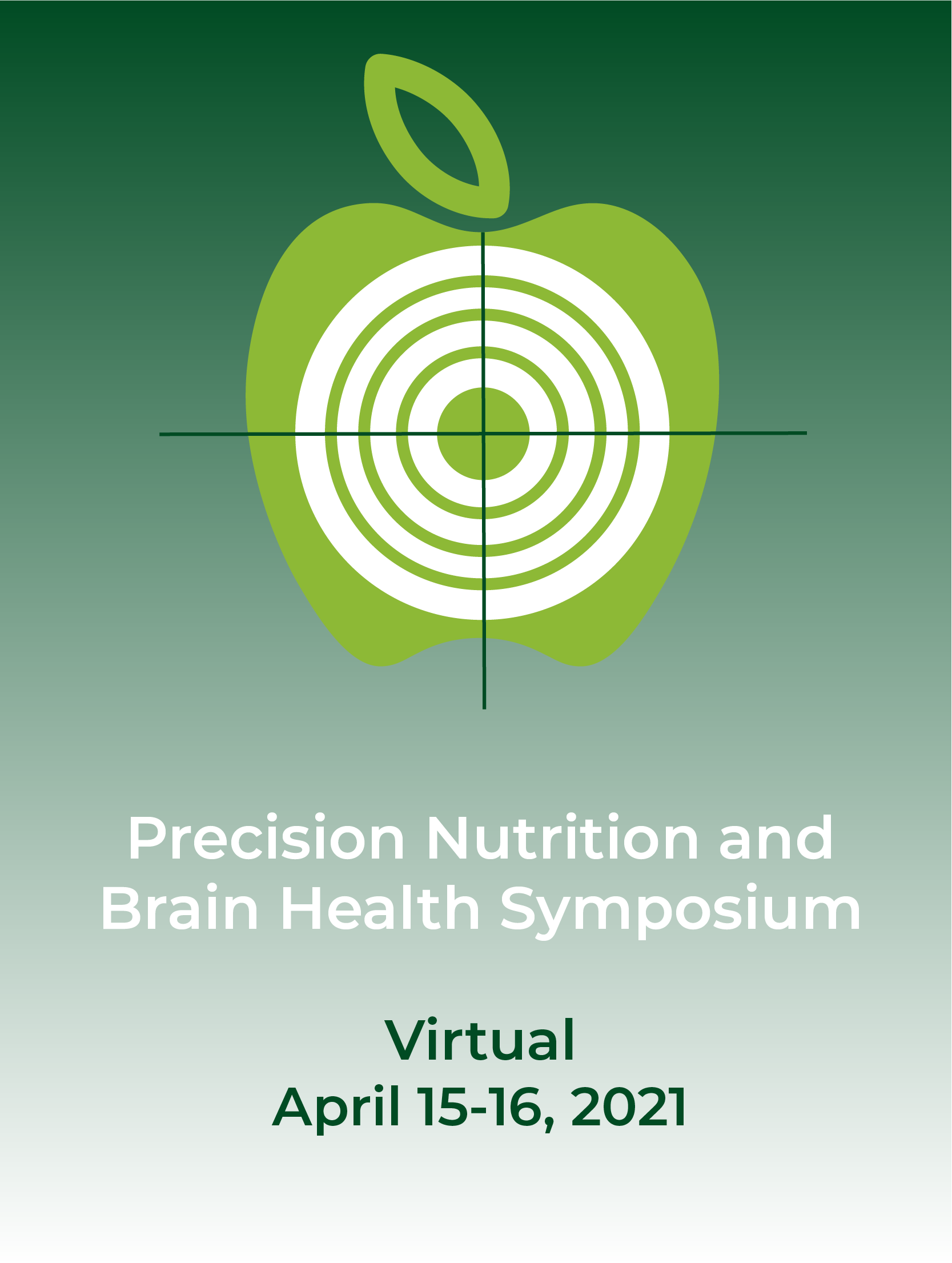 What: A two-day symposium that highlights the role of maternal nutrition in brain development and explores how this can be optimized based on individual genetic and nutritional backgrounds
Who: Scientists and medical professionals from academia, government, and industry
When: April 15-16th
Where: The symposium will be held online
What to do: Registration and further details can be found here
---

2020-2021 Science Policy Training Series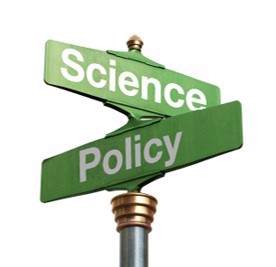 Learn about the field of science policy through the new 2020-2021 Science Policy Training Series. This series is hosted by the North Carolina Students for Science Policy Coalition (SSPC) (made up of UNC-CH Science Policy Advocacy Group, NC State Science Policy Pack, and UNCG Spartans for Science and Policy)
Who: Any student or postdoc of a North Carolina college or university
What: Learn about what science policy is, why it is important, and how you can get involved! To earn the certificate of training, participants must attend 5 seminars and 3 workshops by July 2021 and submit a brief summary of each event attended. On average, 2 events will be offered per month.
When: The first seminar in the series will be NC Science Policy 101 at 11 AM on September 17th
How to register: Please sign up at this link. An updating calendar of series events, along with other science and policy opportunities, can be found here.
---

Virtual Game Night – Every Thursday!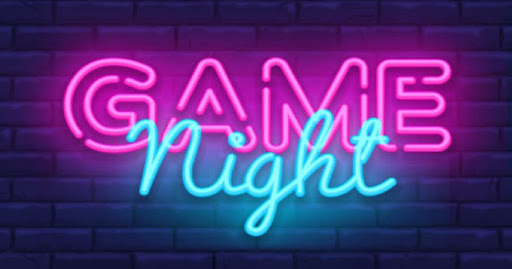 What: If you're looking for something social to do in these anti-social times, join us for some laughs (and hopefully a good time)!
When: Every Thursday 5-7pm
Where: On your computer!
What to do: See the zoom link here to join
---
Given how many of us may be working from home in the coming weeks, we've included some tips from people about how to work from home and what you can get done on your thesis during this time!
---